The Salzach River is in the heart of Austria, nestled within the snow-covered peaks of Alps. St. Johann is at the foot of Schober mountain, 60 km from Salzburg. St. Johann is the most populated town of Pongau Province, providing high quality facilities and amenities to tourists visiting the region.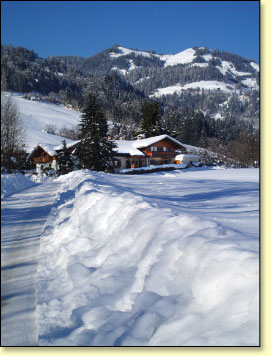 Our family-style guest house is located at the edge of the forest, just a few minutes walk from the town centre. It is a sparsely populated town, meaning that traffic is light and the open spaces provide a beautiful view. The buildings reflect the traditional architecture and interior design of this region.
The house itself consists of four apartments, 2 on the ground floor and 2 on the first floor, each of which can comfortably accommodate 2-4 guests. All apartments have a double bed with shelves, wardrobe, cable TV, bathroom with shower and a (separate) toilet. There is also a fully equipped kitchen with cutlery, cooker, kitchen fan, fridge, water heater and a dining table with chairs. Washing and ironing facilities are in the basement. Three of the four apartments are connected to each other. Parking spaces are available next to the house.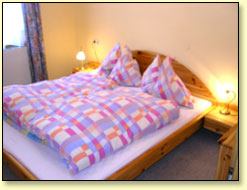 The view from each apartment is spectacular: snow covered pine trees, rocky peaks, and a lovely stream. Our prices are affordable and the quality of the accommodation is maintained from year to year, so you can come us in clean environment. The community room accommodates 10-15 people where they can organize programs, chat, play cards or games. The garden is in a very good condition and can even be used for summer grill parties. Our special "sandwich-service" allows you to prepare your own sandwiches for your tours and day long skiing trips. Bikes and sleds are available on request. We have a special room to dry your skis so you can protect it from rust. If you wish we can serve breakfast, including fresh bakery products with cold cuts, honey, jam, hot tea and coffee.